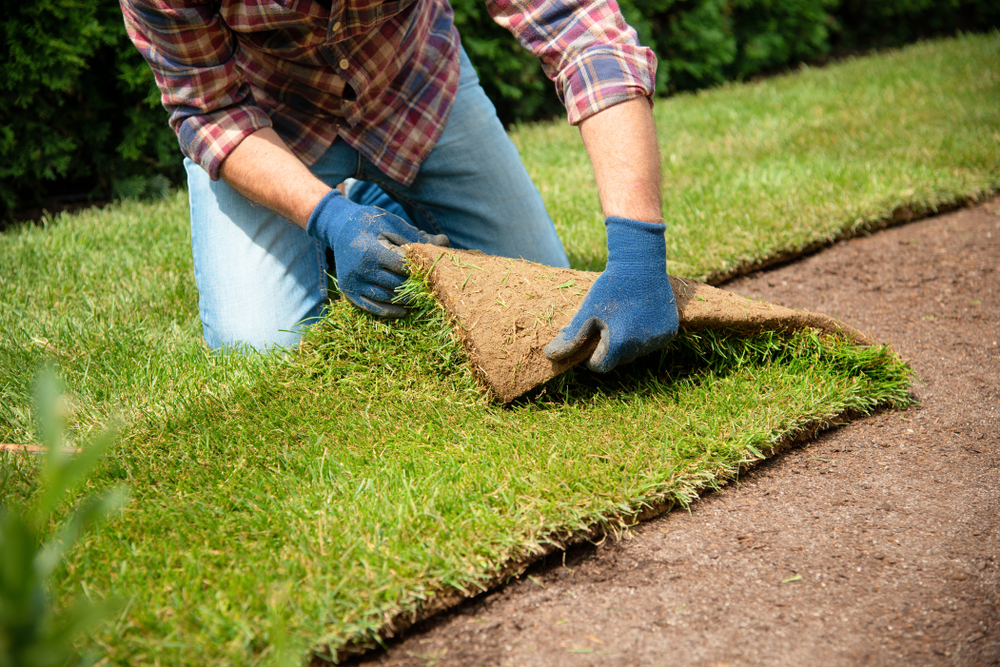 SOD Service
Sod Services Made EASY
Is your lawn lacking that lush vibrant green you've always wanted?
Are you tired of dealing with patchy, uneven grass which never seems to take shape? Don't wait for spotty discolored grass which never seems to show up.
"Let NO SOD project go unconquered!"
Revamp Your Lawn with A1 Tree Pros Professional Sod Installation Services in Frederick, Maryland
No one knows your lawn better than you. LET US work closely with YOU to understand how to bring he vision for your lawn to life.
OUR 3 P's PLEDGE
Passion-Our team will approach YOUR sod installation project with the same enthusiasm a football team takes when it hits the field. LET'S GO!
Precision-Precision is a crucial aspect of sod installation. Our team pays meticulous attention to detail, ensuring each sod roll is placed accurately, resulting in a seamless EVENLY laid lawn for YOU!
Preservation-We source our sod from trusted local growers in Frederick County who adhere to strict high quality standards ensuring YOUR SOD stays beautiful for YEARS to come!
Why Do Sod Installation?
Sod installation has several advantages over traditional seeding. Unlike waiting for grass seeds to germinate and sprout, sod provides an immediate solution. Within a matter of hours, your once struggling lawn will be transformed into a perfectly even, lush carpet of green grass. Sod also eliminates the annoyance of bare patches and weed-infested areas. With a mature root system, sod establishes quickly, creating a durable resilient lawn resistant to weeds, erosion, and drought.
Expertise and Experience
A1 Tree Pros has years of experience on countless sod projects. Please look at our Google Reviews! We have transformed some of the most challenging lawns into rich lush landscapes. From the simplest of sod projects to highly technical ones, our team understands the unique challenges of Frederick's climate and soil conditions.
We assess your lawn's specific requirements and recommend the most suitable sod variety to ensure great growth and longevity. Whether you have a boutique residential lawn or a sprawling commercial property, we have the knowledge and resources to handle projects of any size with utmost precision and efficiency.
Top-Quality Sod Products SOURCED from Local Farms
We believe the key to a successful sod installation lies in the QUALITY of the products we use. That's why we source our sod from trusted local growers who adhere to strict quality standards. Our premium sod varieties are carefully cultivated to thrive in Frederick's climate, ensuring you receive the highest-quality grass that is healthy, vibrant, and ready to flourish in your yard.
Customer Satisfaction Guaranteed
Customer satisfaction is our top priority. We won't stop until it's RIGHT! We will go above and beyond to provide YOU with exceptional service from the moment you contact us until the completion of your sod installation project. Our friendly and knowledgeable team makes it easy guiding you through every step of the process, addressing any concerns or questions you may have.
We stand behind our work one million percent.
Schedule Your Sod Installation Today
Don't wait any longer to transform your lackluster lawn into a picturesque painting.
Contact A1 Tree Pros today.